More children needed in our churches…
The simple reality is left to their own devices all churches grow older, become increasingly inward Child evangelism – communicating Jesus to boys and girls who don't go to church with their families – is the key to church growth. And how else can those children who don't have Christian parents hear the gospel?
I started my first outreach children's club – Frantic — in a Pentecostal church in Milton Keynes in the early 1990s. It quickly grew to 200 children most Saturdays, with one end of term event reaching 750. A decade later I launched Dream Factory – with 150 (primarily community) kids coming from the start. At that time I was exploring the call to the dizzy heights of vicardom, and was appointed Associate Minister at St Mary's Bletchley. Both Frantic and Dream Factory still continue today.
I arrived in Bracknell in 2010 — the new Senior Minister. I had accumulated 25 years of children's ministry experience and my passion for child evangelism was undiminished. But the Church of England comes with some very particular challenges and in Bracknell's case they were very practical problems – a parish hall too small to be useful and a 1,000-year-old building with pews! It took me two years of careful negotiation to get the pews removed, new floor fitted, and stone pulpits and fonts removed.
By 2013 we launched our first children's outreach club, and over 150 children came. There have been weeks when attendance has been much higher (like the week when Alvin Magallanes from the Great British Bake Off made a guest appearance!), but numbers have rarely dropped below 150.
It's usually difficult for senior ministers to run children's outreach projects on top of their other responsibilities, and Bracknell had quickly grown to a multi-site church with one of the largest memberships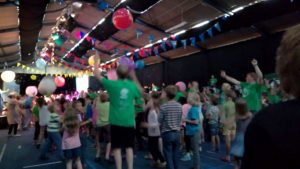 of any Anglican church in Berkshire, so in my case it was completely impossible. So this new outreach club, All Starz, has very little to do with me.
Jo Foster was appointed as Children's Pastor almost as soon as All Starz began, and she has been the force behind it. Sometimes in our desire to recruit talent from outside, we forget to notice the incredibly gifted individuals who are under our noses. Jo Foster will be no stranger to some of you because she also co-leads Rock Solid at the New Wine National Gatherings.
These three separate outreach projects all started out with more than 150 children, and to some this may seem unattainable. In each case we were the typical swan: doing our best to look good above the water but paddling like crazy below it! But there were things we put in place to make them happen:
The school connection
Schools ministry is fundamental to successful children's ministry. The first thing I did when I arrived in Bracknell was to visit the local head teachers. There were seven schools in the area so over 2,000 children. From 2010 I began taking school assemblies – a role Jo took over and added lesson work and lunch clubs to the mix, plus our community worker has added breakfast clubs.  Schools are the place for making contact with the children who will later form the children's outreach club. But it's vital not to move too quickly. Even if I had a usable building I would still have taken a year's worth of assemblies before launching a kids club.
Anything that will have lasting significance will be based on relationship. I wanted the schools to have sufficient relationship with me and the church I represented at that time before I asked them to help me promote the outreach clubs.
The set-up
I had seen the phenomenal Metro Sunday School in New York City led by Bill Wilson in 1996. This year that same Sunday School is connecting with 120,000 children every week. But I wanted something more.
I created the format of an outreach club running for just over 2 hours; one hour of face painting, bouncy castle, outside football when the weather allows and the graveyard doesn't get too mucky (!), computer games, café area, craft area, nail bar, hair salon, etc.
The second half of the programme is team games, songs, object lessons, Bible teaching and stories. For the first half the children arrive and choose what they want to do, for the second half they are split into three teams and sit in those teams for upfront activities.
The team
Never recruit from a position of desperation, "If you don't help us we can't do this…" Always recruit to a vision. Explain clearly that this project could see boys and girls who have never encountered Jesus meeting God and becoming everything God created them to be. Our leaders are not just face painting; they are changing lives.
Every church should have an outreach kids club. It is hard work, but it is exceptionally rewarding – children don't tithe well, but they do show their appreciation in such wonderfully affirming ways. I remain convinced that child evangelism is the key to church growth.
I have now moved on from the Bracknell church.  But I will keep advocating these wonderful initiatives.